Restaurant La Bastide de Magnans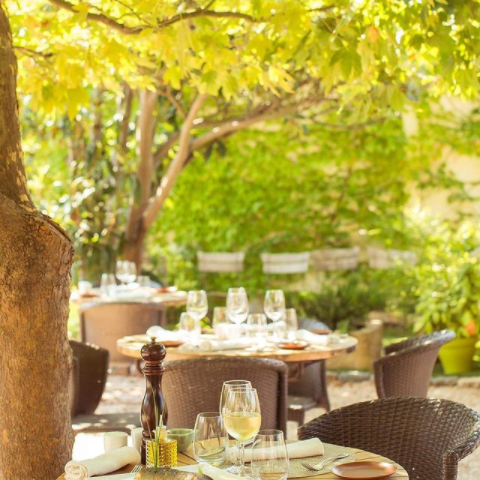 Just a couple of minutes from our Domaine you will find our favourite chef, Christian Bœuf, and his Bastide de Magnans. For gourmets and gourmands, the place to stop before or after a visit at Domaine des Féraud. Enjoy Christian's cuisine à la provençal, the beautiful terrace with its old trees and a glass of Féraud wine. A perfect moment for all friends of our region. A reservation is recommended...we will gladly take care of that for you!
La Bastide de Magnans
32 avenue du Marechal Gallieni, 83550 Vidauban
Tel. 04 94 99 43 91. Reservation recommended
3 km or 5 minutes drive from Domaine des Féraud
Les Marchés Provençaux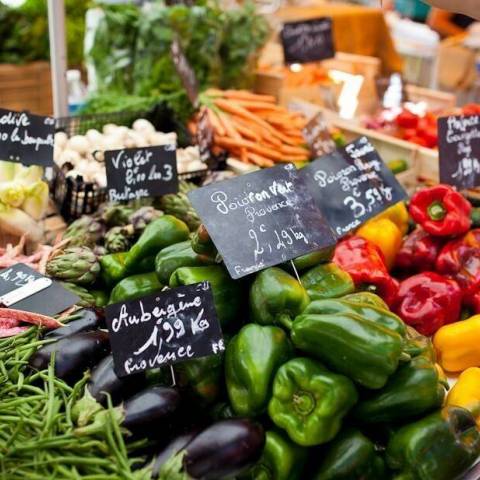 One or two mornings a week, each town and village hosts markets which are popular with both tourists and locals alike. The most famous are those of Saint Tropez on Tuesdays and Saturdays, and Lorgues on Tuesdays and Fridays. For a few years now, markets where only local producers can offer their often organic products have been set up in the squares and streets of the little villages in Provence.
La maison des vins aux Arcs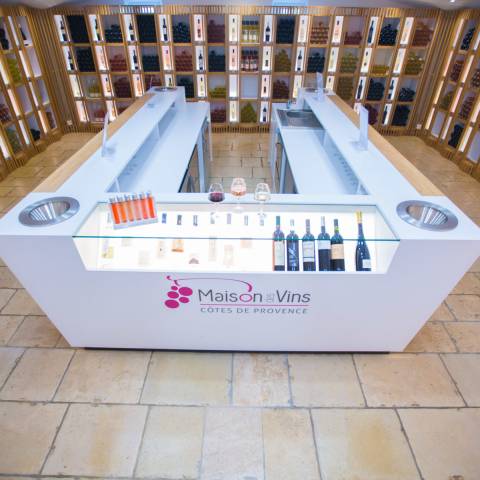 The headquarters of the CIVP (Conseil Interprofessionnel des Vins de Provence) - the association of Provence winegrowers - in Les Arcs is just a few minutes away from us. In the adjoining "Maison des vins Côtes de Provence", the CIVP presents over 800 wines from the different regions of our appellation to visitors. Most of the wines can be bought directly at cellar price. During the season, the Maison des Vins also offers courses on oenology and wine tasting.
LA MAISON DES VINS
RN 7, 83460 Les Arcs-sur-Argens. Tel: 04 94 99 50 20
Opening hours : 10.00-18.00, July & August 10.00-20.00; June, Sept & Oct. 10.00-19.00.
10 km or 15 minutes drive from Domaine des Féraud

Tortoise village in Carnoules
On the border of the nature reserve of the Plaine des Maures, the turtle village is a refuge for the survival and protection of France's only endemic turtle species, the tortoise Hermann*. The Turtle Village of Carnoules Coeur-du-Var is a unique educational and conservation centre for the protection of turtles. It houses scientific and conservation activities.
Alone or with your family, it is a unique experience to visit this park of two hectares for more than 50 species from all over the world. You will be amazed and learn how to protect turtles and contribute to their conservation.
*tortue de terre grecque Testudo hermanni
VILLAGE DES TORTUES
Quartiers des Plaines, 1065, Route du Luc D97 83660 Carnoules
Tél : 04 89 29 14 10
Opening times : 15th March - 15th October, daily from 10 am to 6pm;
October 16th March - 14th October all Wednesdays, Saturdays and Sundays 10 am - 5 pm.
30 km or 30 minutes drive from Domaine des Féraud.
La Plaine des Maures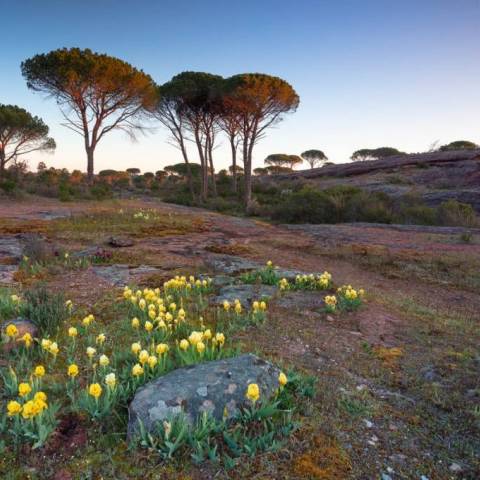 Our Domaine des Féraud is on the edge of the Plaine des Maures. This natural reserve covers an area of 5,276 ha. A territory of exceptional biodiversity in the Mediterranean region. The mosaic and the diversity of natural habitats present (oak groves, pine forests, lawns, temporary ponds, maquis, sandstone slabs, meadows ...) constitute favorable environments for a large number of remarkable and endangered species. The Plaine des Maures reserve is the most important habitat for turtles in France.
L'Abbaye du Thoronet - Cistercian Abbey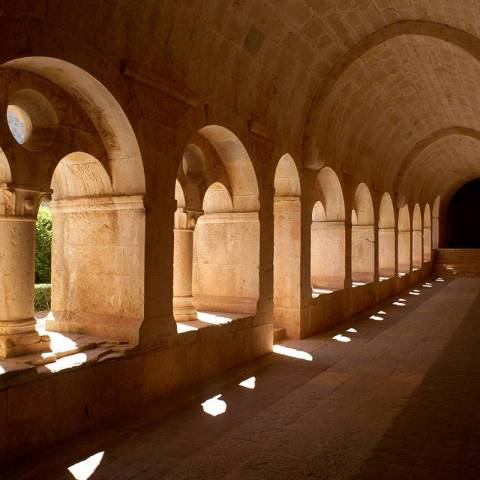 Located just 20km from our Domaine, the abbey in Thoronet is the "jewel" of Cistercian abbeys. Built between 1160 and 1230, Thoronet Abbey, together with Silvacane and Sénanque, is one of three Cistercian abbeys in Provence. In danger of falling into disrepair after the French Revolution, restoration work began on this masterpiece in 1841. Thoronet is an example of timeless architecture. Generations of architects were inspired by the purity and simplicity of the internal space, dictated mainly by the organization of community life. Le Corbusier often visited the site. In 1953 at the occassion of his first visit he wrote: "In these days of 'raw concrete', however welcome and blessed it may be, this was such a marvelous encounter along the way."
ABBAYE DU THORONET
20 km or 20 minutes drive from Domaine de Féraud
La Garde-Freinet and the chestnut festival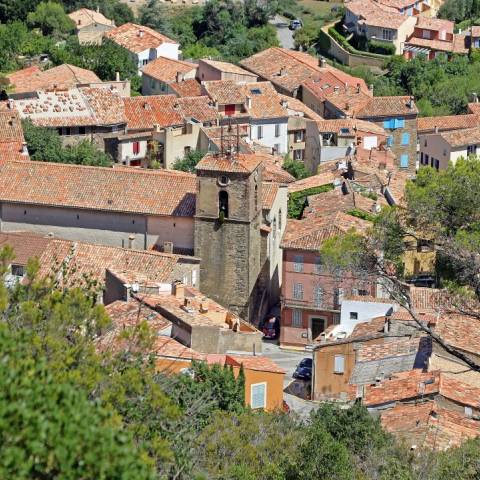 In the days when the cork industry boomed, la Garde-Freinet was one of the centres of its agricultural production. Cork oak trees still line the streets today, but this village at the end of the pass of the "Massive des Maures" with its flowering gardens and steep alleyways now lives from its vineyards and chestnuts. The highlight of the autumn is the "Fête de la Chateigne", the chestnut festival, on the 3rd and 4th Sundays in October.
VILLAGE DE LA GARDE-FREINET
16 km or 20 minutes drive from Domaine des Féraud

Botanical Gardens in Rayol-Canadel
The large botanical gardens are beautifully situated on the coast just to the south east of Rayol-Canadel-sur-Mer. A walk through the area – known as the "Domaine du Rayol" or "Le Jardin de la Méditerranée" leads through various gardens divided into different botanical regions of the world and featuring different vegetation from the Mediterranean Basin. It takes about one and a half hours to follow a 2km marked itinerary. Guided tours can be reserved or audio guides are available. A small open-air restaurant – " Le Café des Jardiniers" - offers meals inspired by the gardens. A bookshop is available for botanical literature and gift items.
Le jardin botanique de Rayol-Canadel
Domaine du Rayol, avenue des Belges, 83820 Rayol-Canadel-sur-Mer.
Tel : 04 98 04 44 00
Opening times: February to 15th November every day, except Sundays, from 9.30am to 6.30pm.
50 km or one hour drive from Domaine des Féraud.
Tourtour , the Village in the sky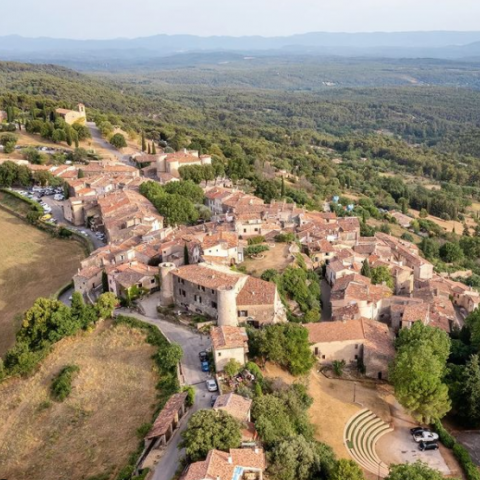 There are lots of beautiful and romantic little villages in Provence. Tourtour is certainly one of the most impressive. A dominant position has earned Tourtour the nickname "Village in the Sky" and offers the visitor exceptional views of the Maures, Sainte-Baume and Sainte-Victoire massifs. On a clear day visitors can even see the Mont Ventoux.
The setting is fantastic, a green village up in the sky with numerous springs, picturesque streets and the omnipresent medieval history.
Tourtour
30 km or 30 minutes drive from Domaine des Féraud.
Gorges du Verdon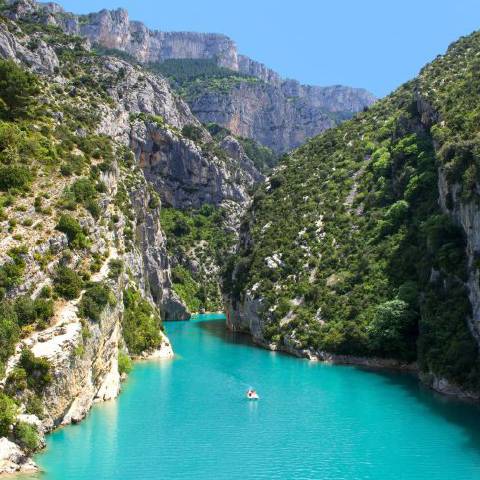 The Gorges du Verdon or Grand Canyon du Verdon is often considered to be Europe's most beautiful canyon. 30 kilometers long and formed by the Verdon River, the canyon is named for its startling turquoise-green colour, one of the location's distinguishing characteristics. The most impressive part lies between the towns of Castellane and Moustiers-Sainte-Marie, where the river has cut a ravine to a depth of 700 meters through the limestone mass. At the end of the canyon, the Verdon River flows into the artificial lake of Sainte-Croix-du-Verdon. The Gorges du Verdon is just an hour drive (approx.70 km) north of Vidauban. Due to its proximity to the French Riviera, the canyon is very popular with tourists who can drive around its outskirts, rent kayaks or hike. The limestone walls, which are several hundreds of meters high, attract many rock climbers.
You can visit the GorgeS du Verdon all year round. April to June and September/October are probably the most pleasant months to visit.
70 km or 60 minutes drive from Domaine de Féraud
Butterfly house in Saint Tropez
More than 4500 butterflies and beetles, collected by Dany Lartigue over the last few decades, are exhibited in the "Maison des Papillons".
The variety and the presentation of the collection are impressive: many of the butterflies are exhibited on painted or artistically designed backgrounds showing their camouflage in their natural surroundings. Thus each exhibit becomes are piece of art in its own right, created with love and passion.
Maison des papillons
9 rue Etienne Berny, Saint-Tropez. Tel : 04 94 97 63 45
Opening times: daily from 10 am to midday and from 2.30 pm to 7 pm, except on Sundays.
38 km or 50 minutes drive from Domaine des Féraud.

Honey from Draguignan
Not only can delicious honey be bought at the "Miellerie Mandard", one can also learn about beekeeping, making a beehive or harvesting honey. During a tasting session one can taste the variety and richness of the typical plants and flowers of the region. More than 10 different types of honey are available, ranging from chestnut to rosemary or from thyme to strawberry (Miel d'Arbousier). The lavender honey and the flower honey (Miel de Provence toutes fleurs) have both been awarded the "Label Rouge".
LA MIELLERIE MANDARD
Le Mas de Salles, chemin de Saint-Michel, 83300 Draguignan
Tel : 04 94 68 05 10. Rendezvous by telephone only.
20 km or 35 minutes drive from Domaine des Féraud.
Marmelade and jam from Gassin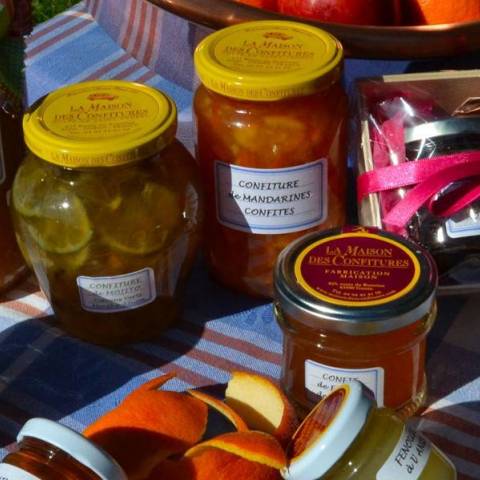 Well over 450 different delicious homemade jams and marmalades, ranging from classical apricot to more exotic specialities such as caramel, ginger or vanilla essence, can be found at "La Maison des Confitures on the Route de Bourrian near the hillside village of Gassin: one of France's most beautiful villages. The village, with its houses covered in Bougainvillea, narrow dreamy alleyways and a wonderful panorama across the nearby vineyards also make it a visit in its own right worthwhile.
LA MAISON DES CONFITURES
825 Route du Bourrian, 83580 Gassin. Tel : 04 94 43 41 58
Open all year Monday -Saturday from 9.30 to 19.00, Sundays from 10.00-13.00.
35 km or 45 minutes drive from Domaine des Féraud.
Truffle market in Aups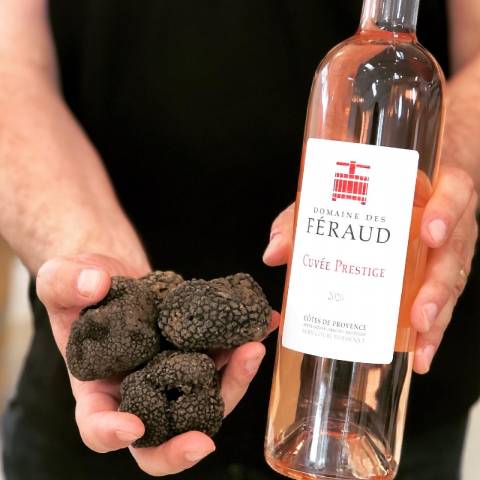 A truffle market takes place every Thursday morning from November to February in Aups – the truffle capital of Le Var. On the fourth Sunday in January – the Day of the Black Diamond – the whole place smells of truffles. You will find truffle menus in almost every restaurant, a truffle exhibition where one can find out all about truffles and competitions for truffle dogs and pigs.
LE MARCHÉ AUX TRUFFES
Place Frédéric Mistral and Musée de la Truffe, 83630 Aups.
Market day from end November to beginning March: every Thursday 9.30-12.00.
Approx. 37 km or 50 minutes drive from Domaine des Féraud.
Chestnuts from Collobrière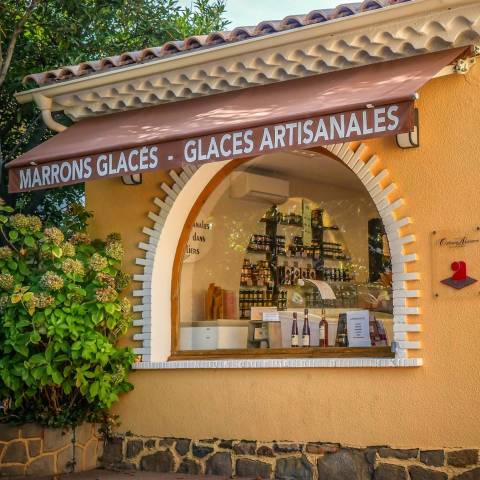 In the 19th Century, chestnut trees and cork oak trees were extensively planted in the silica earth of the Massive des Maures. Its capital Collobrière thus became and still is an important centre for chestnut production. Delicacies such as chestnut cream, glazed chestnuts, chestnut liquor, chestnut jam and, in summer, chestnut ice cream can be found, for example, in the 'Confiserie Azuréenne'.
CONFISERIE AZURÉENNE
83610 Collobrières. Tel : 04 94 48 07 20
Open daily from 9.30 am to 12.30 pm and from 2 pm to 6.30 pm.
Approx. 40 km or 35 minutes drive from Domaine des Féraud.

Goat cheese from Barjols
Martine & André Luc maintain 40 to 50 goats on their 9 hectares of land and passionately produce different types of goat cheese. The animals live in idyllic natural surroundings and are kept humanely. Milking takes places twice a day at 7.30am and 6pm. The goats can be visited twice a day late morning and afternoon. Cheese and other produce can be bought directly from the farm or at the nearby markets.
LA CHÈVRERIE DES GARAGAÏES
Route de Marseille, 83670 Barjols.
Tel : 04 94 77 18 92.
Sale of products daily from March to December 8 am to 1 pm and 3 pm to 8 pm.
Approx. 57 km or 55 minutes drive from Domaine des Féraud.
Lavender Festival in Valensole
A somewhat longer excursion leads us to the Plateau de Valensole, a valley in the hilly Provence, surrounded by lavender fields, wheat fields and almond trees. When in flower, these combine to become a unique sea of lilac and yellow colours. The highlight of the summer is the lavender festival on the third weekend in July. The buzzing of the bees in the middle of the lavender fields is unforgettable. There are plenty of opportunities to buy the famous lavender honey from Valonsole. We can also recommend a visit of the Museum of apiculture "Musée Vivant de l'Abeille" and Jean-Paul Angelvin and his lavender distillery.
Valensole
95 km or 1 hour 40 minutes drive from Domaine des Féraud
La fête du champignon de Saint-Trinit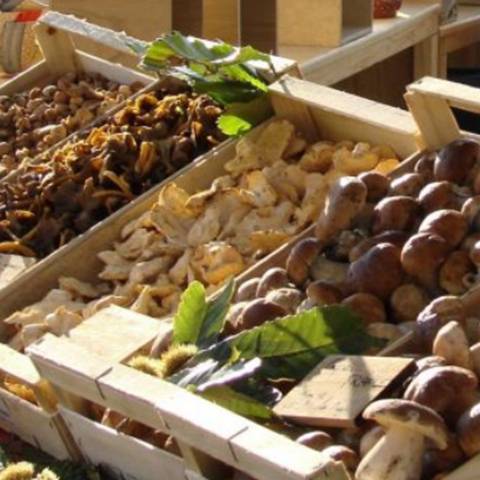 Once a year, in October, this sleepy village of Provence at the foot of Mont Ventoux turns into the capital of mushroom experts and collectors. Exhibitions of over 100 species of mushroom and an extensive programme for both children and adults are worth a detour.
Nearby you will find Sault, declared a World Heritage Site by UNESCO. Here you can admire nature in all its beauty, particularly in summer, when wheat and lavender are in full blossom.
SAINT-TRINIT
185 km ou 2 hours 40 drive from Domaine des Féraud.