Tasting & inspiration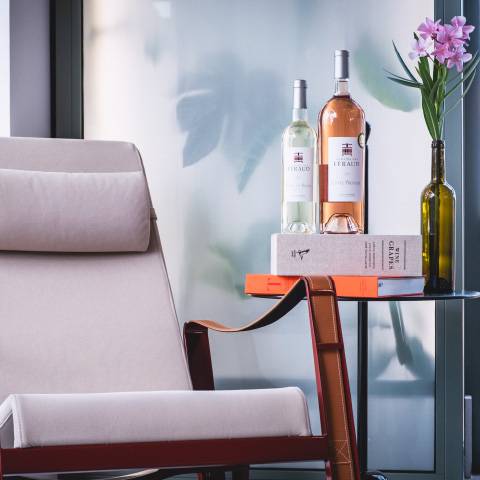 RENDEZ-VOUS @ FÉRAUD
Throughout the year we welcome you to visit our Caveau de Vente and to taste our wines in a modern and inspiring setting.
We are open Monday to Saturday from 10am to 6pm throughout the year. We are only closed for the two weeks around the year-end holidays.
Visits of the cellar can be organised at 11am or 3pm by reservation via info@domainedesferaud.com
Walks & terroir
THE "SENTIER DES FÉRAUD"
Our "Sentier des Féraud" invites you to take a break and to take a stroll through our vineyards. The trail crosses a magnificent landscape, nicknamed "Little Africa". The walk takes about 1 hour. Explanatory signs about wine and nature all along the way will make it an enjoyable and interesting experience for the whole family.
Wine Bar
JAZZ @ FÉRAUD
Every month we offer you a relaxing evening in our Caveau de Vente - or during summer - on the terrace by the pool. Come and enjoy a good glass of wine, small snacks from the foodtruck, live-jazz, a welcoming and easy atmosphere and - why not - a good game of pétanque under the umbrella pines with friends and family. Our next events:
Thursday 26 January - 18h00 - Behia Jazz Band
Free admission - Reservation required via info@domainedesferaud.com
Féraud Gourmand & Festif
CHEFS @ FÉRAUD
This season we will have the pleasure of hosting two dinners orchestrated by exceptional chefs:
Paolo Amadori, Italian Chef of the Restaurant La Forge in Ramatuelle offers you his very elegant expression of Italian cuisine. "Travelling influenced me a lot, nevertheless the Italianity of the tastes always accompanies all the dishes I propose".
Clara Onuki, former chef in Mougins and Aix-en-Provence, will invite you to discover the japanes art of dining with its natural, simple and refined raw ingredients.
And of course, the menus are accompanied by an exceptional selection of our wines
LES CHEFS 2022
9 June: Paolo Amadori - Italian Kitchen
23 August: Clara Onuki - Japanese Kitchen
All-inclusive price (cocktail, 3-course menu, wine...) 60€ / per person
Reservation required: info@domainedesferaud.com or +33 (4) 94 73 03 12
Festival Les Musicales
Les MUSICALES DANS LES VIGNES
Founded in 2013, the festival "Les Musicales dans les Vignes" allows you to discover the richness of the Provencal wine heritage by celebrating the nobility of wine and music. Wonderful evenings on pink deckchairs, under tall pine trees, facing the vineyards, accompanied by cicadas, the moon and the stars.
The 2022 Concerts
Friday 15 July : Jazz Concert with Erica Papillion Posey & Spirale Trio
Friday 2 September : Cuban Jazz with the band Latin Clan
Tasting / Catering from 6:30pm - Concert 8.15pm - End of the concert 10pm
Catering on site (Food truck)
Ticket price: 25€ and 35€; free seating

Art & Wine
FÉRAUD ART & WINE
Wine has always had its place in art and has even inspired many painters, sculptors, musicians and writers.
Until the end of October, you are invited to discover the photos of Nicolas de Vaulx, an international award-winning wildlife photographer (European Wildlife Photographer of the Year 2021) regularly published in Nature and Images.
"I don't think it is necessary to express the meaning of my artistic approach. A photo should be enough on its own: no need for long speeches. If it touches you by its aesthetics or the story it tells, it is successful."
Nicolas de Vaulx - Our Artist 2022

YOUR EVENT AT OUR DOMAINE
Do not hesitate to contact us to organise your event at our Domaine: weddings, seminars or any other private party or professional event...our Domaine is designed to welcome and celebrate your most beautiful moments.
Contact, quote and booking via info@domainedesferaud.com