JANVIER
Jeudi 26 - 18h00 - 23h00 | SOIRÉE BAR À VIN – Live music
Behia Jazz Band - Swing & jazz 🎤
Entrée gratuite – Soirée Raclette Boucherie du Thoronet - Réservation souhaitée
FÉVRIER
Lundi 20 - 10h00 - 20h00 | Journée portes ouvertes
Dégustation des nouveaux millésimes - Visite de cave 🍷
Entrée gratuite - Cocktail Dinatoîre - Sur réservation
MARS
Jeudi 16 - 19h00 - 23h00 | SOIRÉE BAR À VIN – Live music
So' Walt Jazz - Belle voix Swing et Standard de Jazz 🎷
Entrée gratuite - Gardiane de taureau maison - Réservation souhaitée
AVRIL
Jeudi 13 - 19h00 - 23h00 | SOIRÉE BAR À VIN – Live music
Bat'Ker - Musique de la Réunion 🏝️
Entrée gratuite - La Kaz Rényoné Food-Truck - Réservation souhaitée
MAI
Jeudi 11 - 19h00 - 23h00 | VERNISSAGE & SOIRÉE BAR À VIN – Live Music 🥂
«Wolf Street Photography» avec la présence du photographe Loup Weismann 📸
Tiphanie Doucet - Auteure-compositrice et multi-instrumentiste française 🎤
Entrée gratuite - Black Thaï Food-Truck - Réservation souhaitée
Samedi 20 I Mariage 💍
Chai ouvert aux dégustations
JUIN
Jeudi 8 - 19h00 - 23h00 | SOIRÉE BAR À VIN – Live music
El Colectivo - Musique Cubaine 🎺
Entrée gratuite - La Fàbrica Food-Truck - Réservation souhaitée
Samedi 17 I Mariage 💍
Chai ouvert aux dégustations
Samedi 24 I Mariage 💍
Chai ouvert aux dégustations
JUILLET
Samedi 1 I Mariage 💍
Chai ouvert aux dégustations
Jeudi 13 - 19h* | CONCERT CLASSIQUE - Festival Gloriana
Récital de Piano Sebastian Knauer - Mozart - Beethoven - Schubert
Entrée 25€ - Restauration Food-Truck - *Ouverture des portes 19h00 - Concert à 21h
AOÛT
Vendredi 4 - 18h30* | CONCERT & INITIATION À LA DANSE
Les Soneros del Caribe & Initiation danse Salsa Bachata 💃
Entrée 25€ - Restauration Food-Truck - *Ouverture des portes 18h00 - Initiation à la danse 18h30 - 20h et Concert à 21h
Samedi 12 I Mariage 💍
Chai ouvert aux dégustations
Vendredi 25 - 18h30* I CONCERT JAZZ - Festival Musicales dans les Vignes
Jazz avec Caroline Mayer & Band 🎷
Entrée 25€ - Enfants de moins de 12 ans gratuit - Restauration Food-Truck - *Ouverture des portes 18h30 & Concert à 20h15
SEPTEMBRE
Jeudi 7 - 19h00 - 23h00 I SOIRÉE BAR À VIN – Live music
Cannelle Band - Duo de reprises Folk/Soul/Pop/Funk/Rock - Loïs Vacchetta (The Voice 9) et Victor Teyssedre (Conservatoire d'Aix-en-Provence)
Entrée gratuite – Restauration Food-Truck - Réservation souhaitée
Vendredi 15 - 19h00 - 23h00 I CHEFS@FERAUD
Dîner des Vendanges orchestré par Christian Bœuf, notre chef coup de cœur de la Bastide Magnans à Vidauban 👨‍🍳
Apéritif, Menu accords mets&vins - Réservation obligatoire - Tarif tout compris 80€/ personne
OCTOBRE
Jeudi 19 - 19h00 - 23h00 I SOIRÉE BAR À VIN – Live music
Pascal Georges Trio - Jazz Fusion
Entrée gratuite – Restauration Food-Truck - Réservation souhaitée
Tasting & Inspiration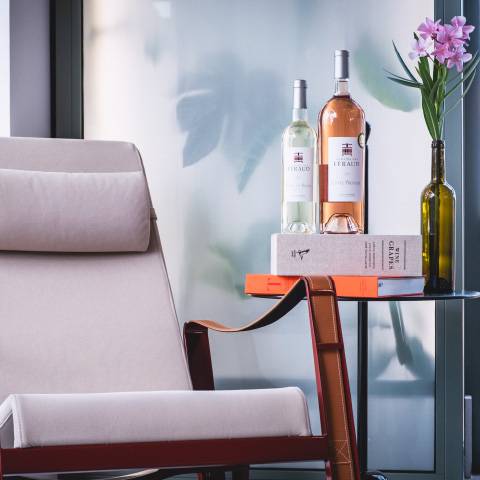 RENDEZ-VOUS @ FÉRAUD
Throughout the year we welcome you to visit our Caveau de Vente and to taste our wines in a modern and inspiring setting.
We are open Monday to Saturday from 10am to 6pm throughout the year. We are only closed for the two weeks around the year-end holidays.
THE "SENTIER DES FÉRAUD"
Our "Sentier des Féraud" invites you to take a break and to take a stroll through our vineyards. The trail crosses a magnificent landscape, nicknamed "Little Africa". The walk takes about 1 hour. Explanatory signs about wine and nature all along the way will make it an enjoyable and interesting experience for the whole family.
Cellar Visits
Visits of the cellar can be organised by reservation via info@domainedesferaud.com
Wine Bar
BAR À VIN @ FÉRAUD
Every month we offer you a relaxing evening in our Caveau de Vente - or during summer - on the terrace by the pool. Come and enjoy a good glass of wine, small snacks from the foodtruck, live-jazz, a welcoming and easy atmosphere and - why not - a good game of pétanque under the umbrella pines with friends and family. Our next events:
Jeudi 7 Septembre: 7.00pm I Cannelle Band - Duo Soul & Funk
Thursday 19 October: 7.00pm I Pascal Georges Trio - Jazz Fusion
Free admission - Reservation required via info@domainedesferaud.com
Art & Vin
ART @ FÉRAUD
Wine has always had its place in art and has even inspired many painters, sculptors, musicians and writers.
Until October you are invited to discover the photos of Wolf street photography, a young photographer from Lyon.
"My name is Loup, I am 27 years old and I have been living in Lyon for 6 years. I started photography in May 2020 after a road trip in South-East Asia. Once in France, the first containment was announced and I decided to invest in my first camera.
Inspired by street culture, cinema and architecture, I try through my photos to capture ephemeral moments of our daily life to create an image that is as graphic as possible while trying to retranscribe a story. I like to mix all the techniques by playing between detail photos, silhouettes, portraits or even darker and more cinematic atmospheres.
Finally, I like to add a bit of humour to my work by giving titles to my photos, playing with words that I often qualify as questionable..."
LOUP WEISMANN - OUR ARTIST 2023
Féraud Gourmand
CHEFS @ FÉRAUD
This season, we are looking forward to a great culinary moment at harvest time.
Christian Bœuf, our favourite chef from the Bastide des Magnans - a stone's throw from our home in Vidauban - will treat us in September. With his team, we want to celebrate "thanksgiving". With all that this implies: a visit to the cellar, tastings of old vintages and fresh grape juice, and of course Christian's fantastic cuisine provençal. His kitchen expresses our region with lightness and finesse, his menus evolve with the terroir and its produce.
LE CHEF 2023
Friday 15 September: 7.00pm I Christian Bœuf - Bastide des Magnans - Dîner Thanksgiving
All-inclusive price (cocktail, 3-course menu, wine...) 80€ / per person
Reservation required: info@domainedesferaud.com or +33 (4) 94 73 03 12
Jazz & Wine
JAzz & Dance @ FÉraud
Concerts under the open sky and pine trees are among the most beautiful things we can offer you.
This year, a new format celebrates its premiere: Jazz & Dance @ Féraud. From 18:30, we invite you to warm up with professional instruction, at 21:00 the live music starts.
In August, the festival Les Musicales dans les Vignes, launched in 2013, is our guest for the fourth time. The festival celebrates wine and music in the vineyards of Provence with international artists in a relaxed and unique atmosphere: on pink deckchairs under pine trees, moon and stars. We are looking forward to Caroline Mayer and her quartet, who will be our guests for the third time. Jazz with a lot of charm!
THE CONCERTS 2023
Friday 4 August 6.30pm**: Call to the dance & concert
Cuban sounds and Salsa Bachata 💃 with Soneros del Caribe
Friday 25 August 6.30pm**: Les Musicales dans les Vignes
Jazz with 🎤 Caroline Mayer & Band
**Tasting / Catering / Dance class from 6.30 p.m. - Concert approx. 9.00 p.m.
Catering on site (food truck)
Ticket price: 25€; free seating; reservation recommended
info@domainedesferaud.com or +33 (4) 94 73 03 12
Classical Music
CONCERTS @ FÉRAUD
On 13 July, great classical music will be our guests for the first time. The premiere will take place as part of the Gloriana Festival. We are looking forward to a wonderful piano recital under the open sky with Sebastian Knauer. On the programme are:
W.A. Mozart:Fantasy in C minor KV 475
L.v. Beethoven: Sonata in C sharp minor op. 27,2 "Moonlight Sonata".<
George Gershwin: Rhapsody in Blue
F. Schubert: Impromptus op. 90 D899
FNAC on Sebastian Knauer: "Hamburg-born pianist Sebastian Knauer is one of the most versatile and dazzling artists in the world of classical music. In addition to his many solo activities, he is a regular guest with orchestras all over the world and performs with artists such as Daniel Hope and actors such as Klaus-Maria Brandauer. In recent years, he has also established a reputation as an innovator in the field of classical music. Arash Safaian's compositions "ÜberBach" and "This Is (Not) Beethoven", which Knauer has presented as landmark recordings, have put him in the international charts. Giving himself a special 50th birthday present he's asked legendary composer Michael Nyman ("The Piano") to write 6 new compositions for him. These titles are complemented by a few pieces by Mozart. This is how classical music comes to life!"
Thursday 13 July 7.00pm**: Piano recital 🎹 Sebastian Knauer
**Tasting / Catering (food truck) from 7.00 p.m. - Concert approx. 9.00 p.m.
Ticket price: 25€; free seating; reservation recommended
info@domainedesferaud.com or +33 (4) 94 73 03 12

YOUR EVENT AT OUR DOMAINE
Do not hesitate to contact us to organise your event at our Domaine: weddings, seminars or any other private party or professional event...our Domaine is designed to welcome and celebrate your most beautiful moments.
Contact, quote and booking via info@domainedesferaud.com