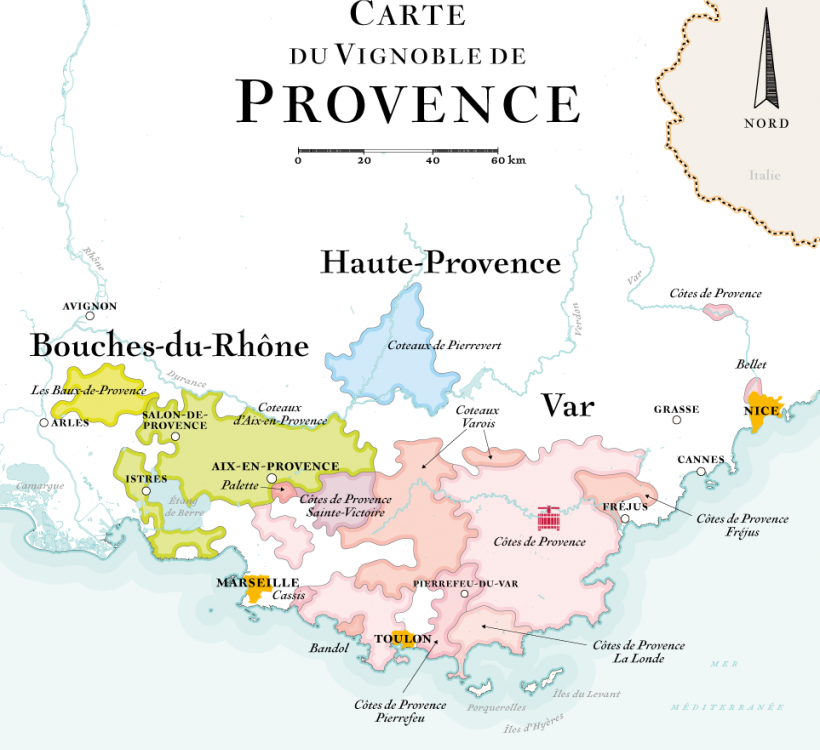 L'Appellation Côtes de Provence
The wine-growing region of Côtes de Provence, declared a region of "Appellation d'Origine Côntrolée " on 24th October 1977, is by far the largest area of origin in South East France. Approximately 20,000 hectares are entitled to an AOC label; the area extends throughout the Var, the Alpes-Maritimes and the Bouches-du-Rhône. The majority of the vineyards are to be found in the Var. Here, in the heart of the Provence, near Vidauban, you will find Domaine des Féraud.
Adjacent, in the West, you will find the Appellations of Coteaux d'Aix-en-Provence, Coteaux Varois en Provence and Palette; at the Mediterranean coast, east of Marseille, the small Appellations of Cassis and Bandol; near Nice, the Appellation of Bellet.
90% of the Côte de Provence production is rosé wine. With approximately 130 million bottles, Provence is by far the largest producer of rosé wines in France, accounting for 40% of French production and 6% of worldwide production. Good 6,5% of the wine production in the Provence is for red wines and about 3,5% for white wines.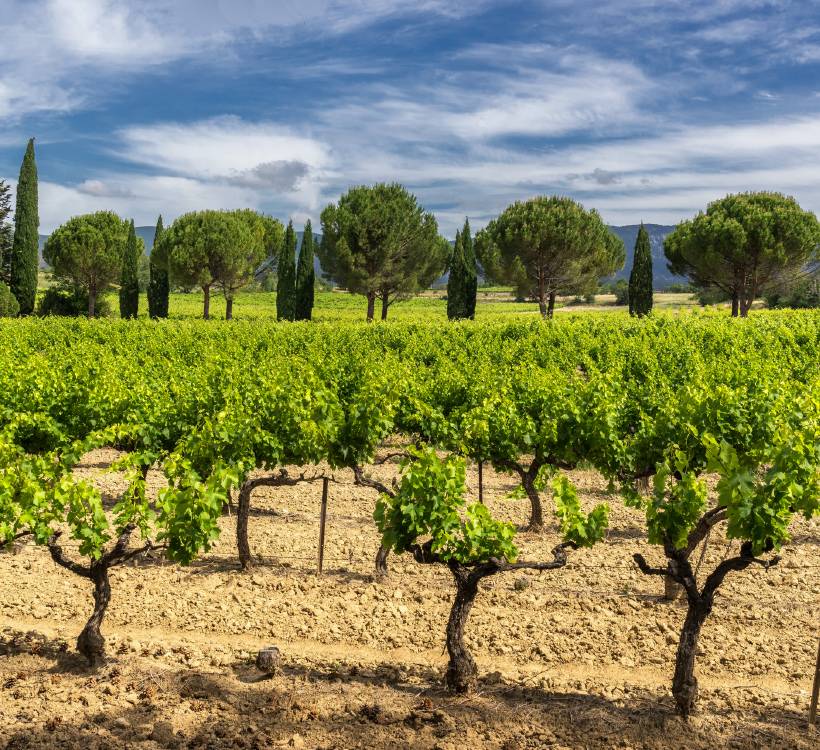 Climate and Soil
Wine growing in the Côtes de Provence area directly benefits from the mild climate near the sea. The fierce mistral, which blows 150 days a year, regularly provides dry air coming from inland and helps keep away diseases. The mistral also blows the clouds away thus allowing the sun to shine for more than 3,000 hours a year - that's a French record! The generally stony soils of the wine region are able to store this heat optimally.
The average monthly rainfall of 600 mm distributed over autumn and spring ensures for good recovery of the vineyards in winter and plant growth in the spring. The vines benefit from early flowering and the hot summer which ensures full ripening of the berries. Chaptalisation (sugaring) the must is therefore not only forbidden, for the winemakers of Provence it is a foreign word.
The vines of the Appellation Côtes de Provence generally grow on very lean, well-drained, stony soils – by and large ideal conditions for good wines. Although that said, two fundamentally different soil types do occur in the Provence. Clay-limestone soils in the north and very old massifs of shale rock in the south, near the sea.